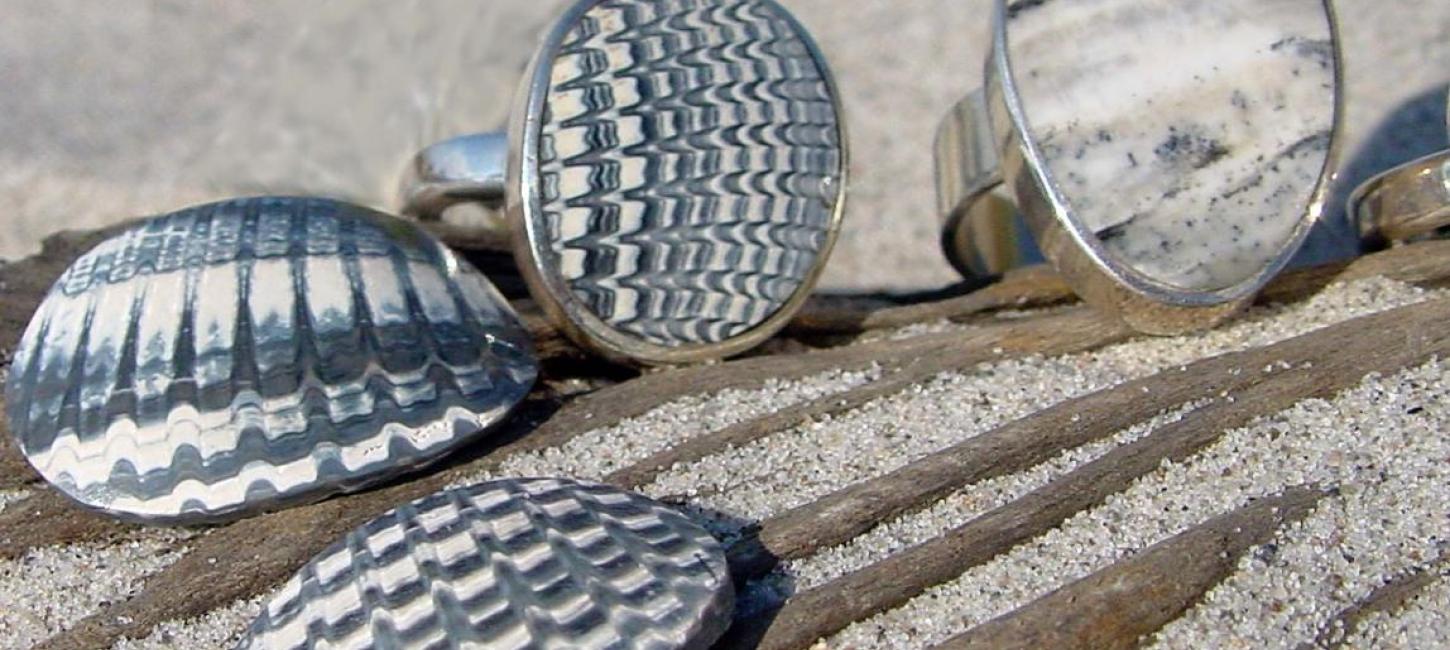 Art & Handicrafts on Læsø
Læsø is inspiration. Artists and makers of handicrafts always find inspiration and tranquility in which to work on Læsø. The sea and the sky, the varied nature and the rich fauna and bird life create the basis for a large number of the one-off products that are produced at the island. 
Different artists
Many artists have created their own completely individual style on Læsø. Subjects and design range from naturalistic reproductions to abstract compositions, which are developed into pictures, sculptures, pottery and ceramics, glass, knitwear, wool products, jewellery and applied art.
Light and colours
The diversity of the nature on Læsø plays a decisive role in the creative process. The daily influence of the changing of the seasons, the changeable colours and light can be experienced in the work of a large number of resident and visiting artists. They transform their impressions with a fascinating degree of diversity.
The shades of the sea
Just try comparing the sea's infinite shades of blue in the products. Immerse yourself in the changing hues of the landscape and experience the imaginative modes of expression and materials at Læsø's makers of handicrafts that exhibit an all-enveloping holistic expression or the curiosity of the fine details.
Exhibitions
Læsø Kunstforening is a unifying institution for the promotion of art on the island and arranges a succession of exhibitions in "Luddes Hus" in Byrum and on the ferry's gallery, "Galleri Margrete". In addition, the association looks after the collection of the multiartist Erik Skjoldborg who died in 1997
Well-known artists on Læsø
Many well-known artists have stayed on Læsø for longer or shorter periods over the years. 
At the end of the 19th century artists such as Rørby, Skovgaard, Krøyer, Viggo Johansen and Tuxen stayed on the island. 
From 1950-1970, the island was graced by Hjort-Nielsen, Asger Jorn, Hofmeister, Arne and Jørgen Haugen Sørensen and Marinus Nielsen, who was actually also born on Læsø. 
Mogens Hoff had a studio on Læsø.
Today Per Kirkeby have studio on Læsø.
Asger Jorn's mural
During a visit to art dealer Børge Birch's summer cottage on Læsø in 1965, Asger Jorn produced a mural of 50 m2 in just a matter of hours. A complicated technique was used in 1986 to move the painting to the foyer of Østre Gasværk's theatre. Today you can see the large painting at the art museum Arken.
New life in Jorn's studio
New owners have bought Jorn's studio and residence unseen, precisely as Jorn himself bought it back in 1964. The studio and house is re-established and used as refugium for young artists