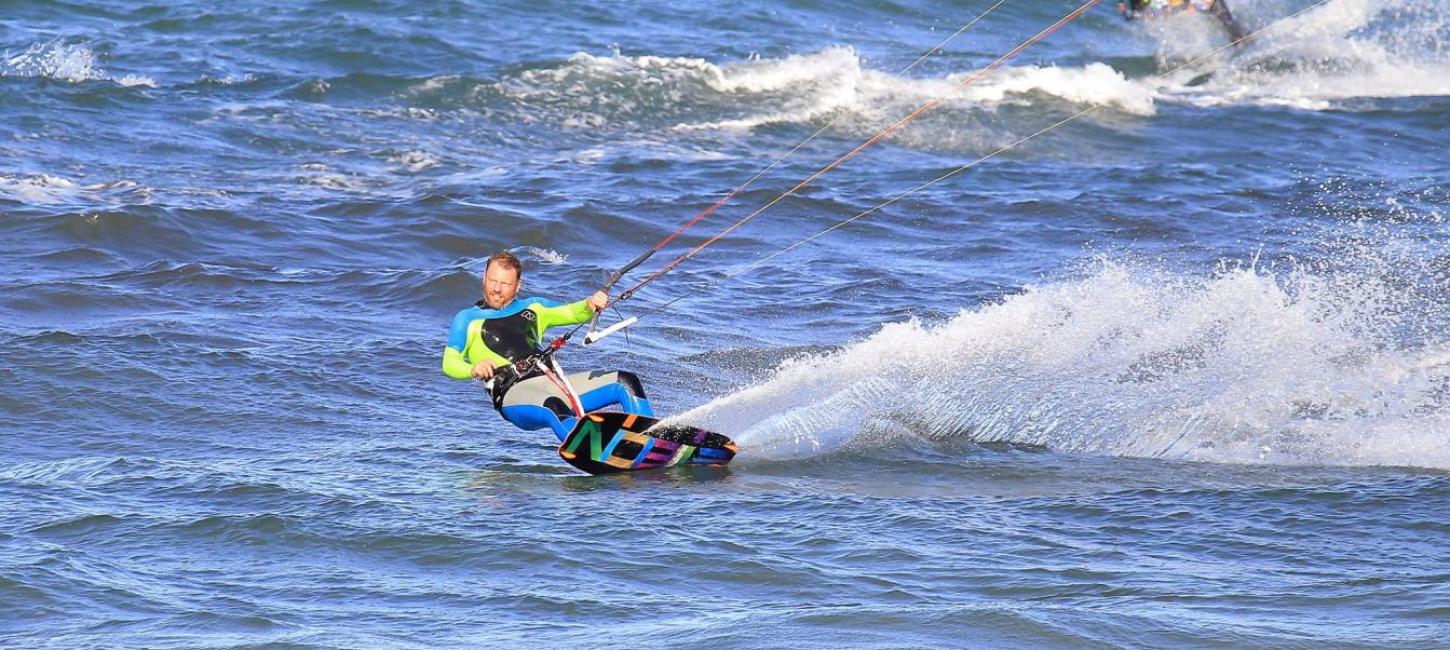 Water activities
Photo:
Læsø Turist- og Erhvervsforening
As an island surrounded by the ocean, Læsø is a great place for doing different water activities. Here you can go kayaking, kitesurfing, diving or paddleboardning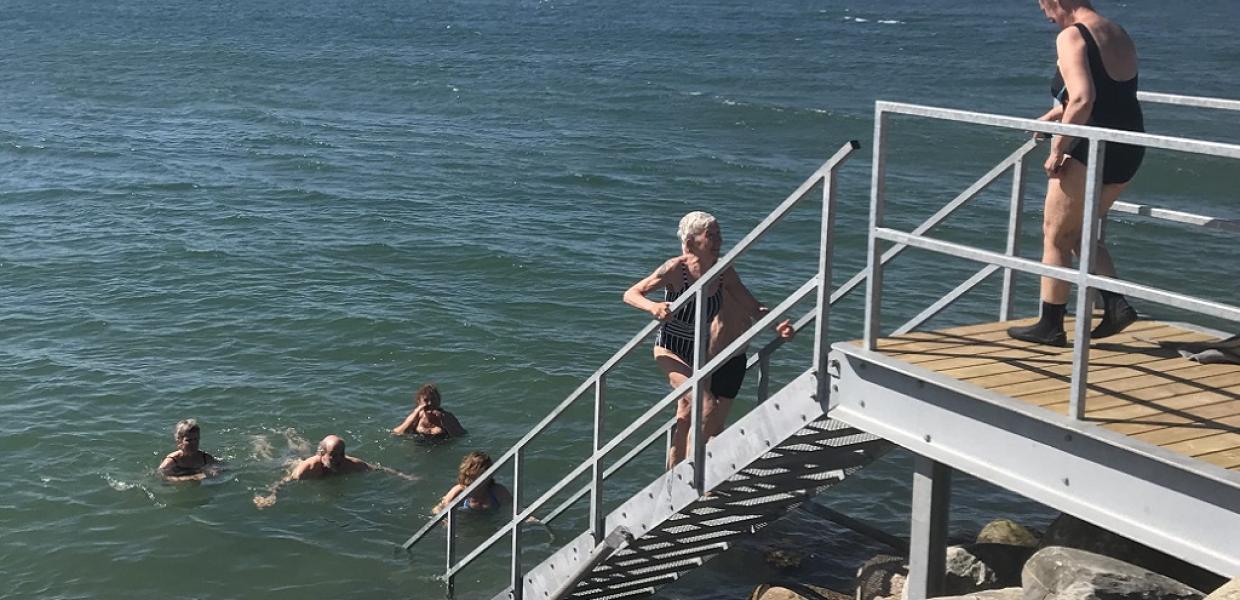 Vinterbadning på Læsø
Strand, mole, badebro eller sø? Mulighederne er mange på Læsø...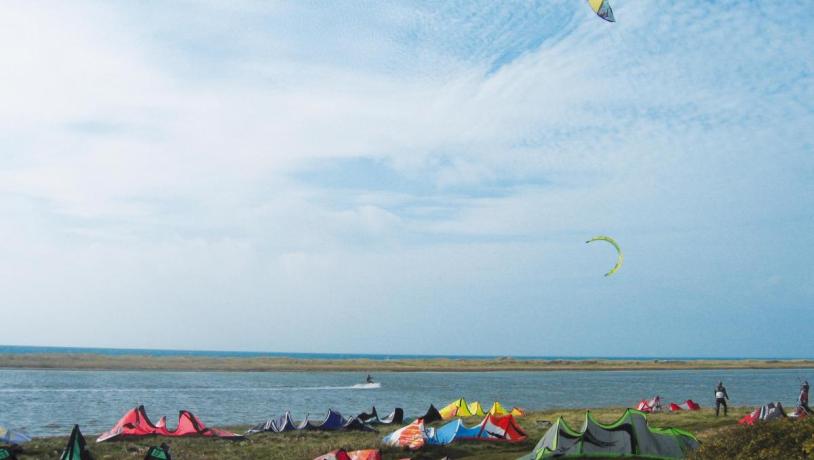 Photo:Visitlaesoe
Kitesurfing
Læsø is a mecca for kitesurfers. A 70 km tortuous waterline, plus shallow water lakes make this just the place for kitesurfing - both for the freestyler, the novice and the cheerful amateur.
Læsø is probably most known for its amazing shallow water spots at Stokken, Flaget and Bovet. And due to the short distances on the island, surfers are able to find a good surf spot with onshore wind and shallow water for most of the year. On Læsø's north coast, there are some sensible wave spots too, when the wind is northerly to north-easterly.
Læsø Kite Club consists of 17 active kitesurfers with an affiliation to Læsø. There are not many resident Læsøans in the club, but the members often come "home" to surf, and then the club members go out on the water as a group. If you come to Læsø as a kitesurfer and wish to get surf spots pointed out to you, you can follow Læsø Kite Club's facebook page. If you announce your arrival on the island, the local surfers will post info on the page about time and place. The club runs the annual Læsø Kite Camp, Thursday to Sunday in the week 39.
The recommended spots are:
Stokken: A truly great spot, about 4 km from Vesterø Harbour - when the wind is southerly to westerly. Stokken is a canal, approx. 2 km long and approx. 100 m wide, and when the wind is in the right direction, ultra shallow waters (0-150 cm)
Flaget: This spot lies just east of Vesterø Harbour and can be used in wind directions from south-westerly to easterly, but northerly and north-easterly are preferred. The spot is very novice-friendly with its large area of shallow water and a water depth of 20-100 cm.
Bovet: Bovet is a large shallow water area on the south side of Læsø - when the wind is easterly to south-westerly. The water depth is 50 cm at its maximum. The spot may only be used during the period 1 April to 1 September (by Ditte Sørensen)
Please note that it's not possible to rent equipment on the island.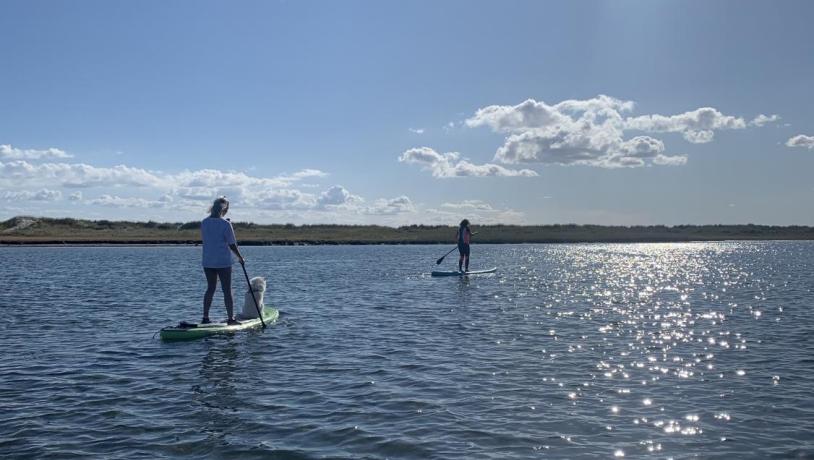 Photo:Visitlaesoe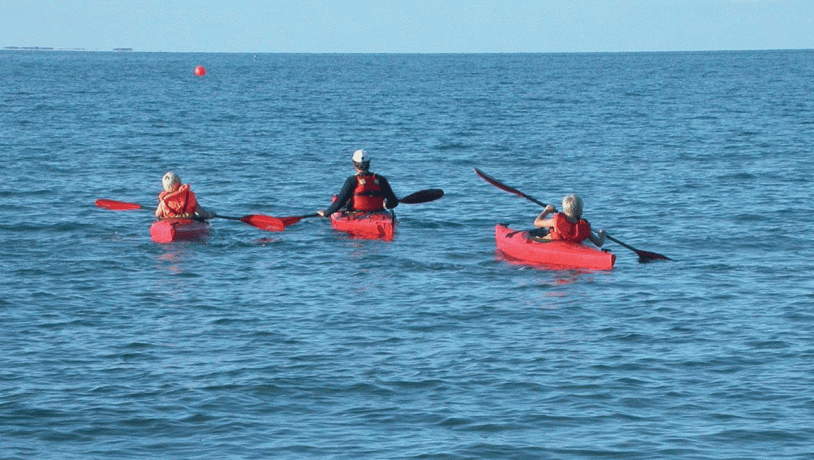 Photo:ukendt
Kayak
If you're a keen kayaker, Læsø is definitely worth a visit. Irrespective of the wind direction and strength, you will always be able to find a beach from which you can launch your kayak and experience Læsø from the seaward side. And as the island is situated in the middle of the Kattegat sea, there are many beautiful places which present a fantastic opportunity for you to get out on the water.
Is there anything nicer than a fresh morning exercise in the kayak for about an hour before heading home to enjoy a warm cup of coffee with the family?
A half-day trip from the harbour in Vesterø along the north coast to Horneks will take you across the shallow water at "Flaget" and the Rønner Reef, out into the deep water in the bay by Storedal. A well-equipped picnic area is located at Horneks, so you could always make use of the facilities by bringing along a packed lunch. The area is popular with seals, so you may even have company. Alternatively, your trip could start from Østerby and culminate in a kayak along the coast, which includes the impressive sand dunes.
If you would like to see the population of seals and Nordre Rønner, it is advisable to set aside a whole day - you won't be disappointed by the unique experience, which is unlike any other.
If you prefer a longer excursion, a trip around the island is available, takes about 15 hours and includes a lunch break at Søndre Rønner. Again, this is a good choice for those interested in observing the seal colonies on the island. This trip can also be done over 2-3 days, of course. So come to Læsø, and don't forget your kayak! (by Henning Munk)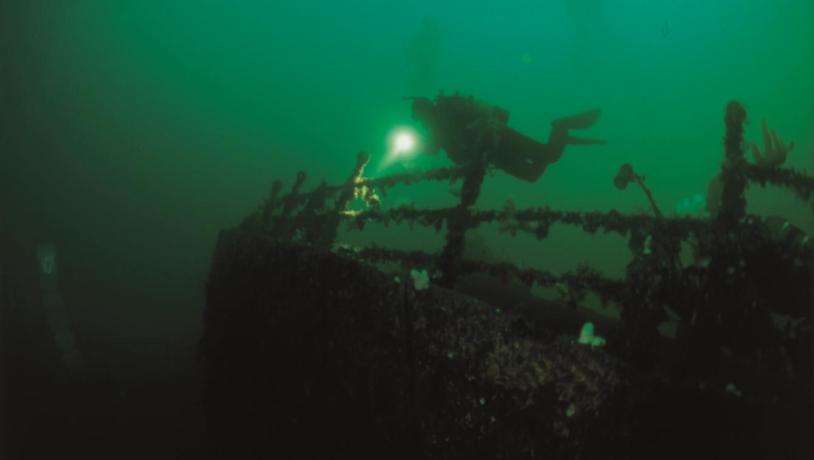 Photo:Dan Kaasby
Dykning
The waters around Læsø offer some of the best places in Denmark for diving, snorkeling, underwater fishing and photography. Indeed, the area has international acclaim for excellent visibility. There are some exciting areas with many different experiences to be had, from ship wrecks to rocky and bubble reefs full of life and stories.
During the period from 1858-1888 alone, 624 ships were shipwrecked or lost in the waters near Læsø. Remnants of most of them are still lying there at water depths from 1-60 metres, offering opportunities for all divers who have the inclination for adventure and amazing discoveries.
The stone reefs near Horneks, Banstenen, Borfeldt, Palli, Nordre Rønner etc. offer an opportunity of snorkeling in shallow water, where you can observe and catch fish and seaweed for your dinner, or take beautiful pictures to share with others.
The bubble reefs, also called gas corals, lie in a large sea area between Nordre Rønner and Hirsholmene. They constitute a unique destination for divers wanting to experience the whole fauna of the sea. They form a submarine landscape, formed through 125.000 years of methane gas oozing from the sea bed, which has resulted in 1-4 metre high sand stone columns at a water depth of 10-20 metres.
The many stone reefs are exciting places for snorkelers and bottle divers. The fauna at a depth of 0-6 metres is unbelievably  rich and beautiful. There is a possibility of underwater photography and harpoon fishing. Sea anemones, sweet tangle, grey mullet, turbot and flounder are close inshore for the eager, patient water lover. Just as fresh sweet tangle can be used in seaweed soup, or it can be oven-dried into crisps. The natural salt content adds a piquant taste (by Jess Jessen Klixbüll)